PI Fenning's dedicated 795 sq. ft. laboratory is located in the Nanoengineering department at UC San Diego.
Relevant facilities for synthesis in the laboratory include:
Temperature-controlled spin coater (MTI)
Rotary evaporator (Buchi)
Two wet chemical fume hoods
2 MW DI water system (Millipore Advantage A10)
25" Dual Zone Tube Furnace with vacuum flanges (MTI)
1" Single Zone Tube Furnace with vacuum flanges (MTI)
Glove box


Relevant characterization equipment includes:
Temperature-controlled I-V tester with Class A solar simulator (Newport)
Light-/potential-biased QE measurement using a Cornerstone 260 monochromator optimized for 250-1800 nm and an SR830 lock in amplifier
Transient and quasi-steady-state photoconductance with submicrosecond resolution (Sinton Instruments)
Illumination dependent Voc for assessing resistive losses in solar cells (Sinton Instruments)
Photo- and electro-luminescence setup (under construction)
Four-point probe (Signatone)
6-channel potentiostat with AC/DC capabilities for electrodeposition, capacitance-voltage and current-voltage measurement, and impedance analysis (Bio-logic)
SRI GC with TCD and methanizer+FID for permanent gas and C1-C6 detection
Customized electrochemical cell:
Optical (Lumerical) and device (Synopsys Sentaurus, PC1D) computational modeling is carried out on a dedicated workstation in the laboratory.
The Fenning Research Group leverages the 9,000 sf shared-use Materials Research Center in the UC San Diego Nanoengineering Department, equipped with: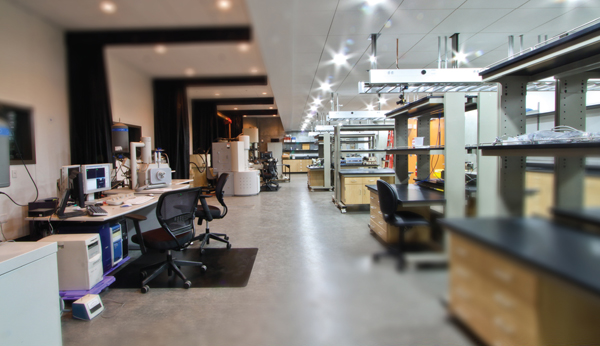 XRD
UV-Visible spectroscopy
Fourier Transform Infrared Spectroscopy
Raman and µ-PL microscope
Atomic force microscope
SEM/electron backscatter diffraction
The on-campus cleanroom (Nano3, Calit2) contains 7,000 sf of Class-100 and Class-1000 space surrounded by 3,000 sf of analytical and design labs for materials characterization. Clean room equipment of particular relevance includes: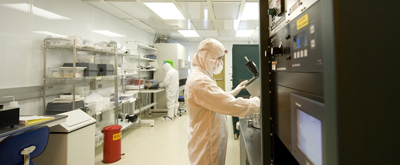 Patterning: photolithography stations and mask aligners, sub 8-nm E-beam lithography (Vistec)
PVD: DC and RF sputtering systems & multiple E-beam and thermal evaporators
Thin film deposition: Beneq combined plasma- and thermal-atomic layer deposition tool, plasma-enhanced chemical vapor deposition tools, oxidation and diffusion furnaces.
The Nano3 characterization facility includes:
SEM/EDS/E-beam induced current
Scanning probe microscopes
Dual-beam cryo-FIB (FEI) capable of removing selected areas for TEM and nano-XRF investigation with minimal implant damage at cryogenic temperatures.